NASBI is Continuing Education in its objective to upgrade the skills of broker salesmen,
READING THE MIND OF THE MARKETS FOR SALESMEN training program
is offered to all broker salesmen.
To view a printable PDF copy of this course, please click here
PROGRAM AND COURSE OUTLINE
I. Understanding Financial Markets
Framework for Assessing Fundamentals and Sentiment
Key Economic Indicators
Nuances and interpretations
II. Basic Technical Analysis
Philosophy behind technical analysis
Difference between Fundamental and Technical Analysis
Basic Technical analysis tools

Trend lines
Support and Resistance
Reversal Patterns
Continuation Patterns
Retracement Analysis
Other Technical Approaches (RSI, MACD, Moving Average)
III. Current Market Conditions: How It Relates To The Philippine Markets
Current Markets
Global Interest Rates
Global Equity Markets
IV. Summary and Integration: Stringing the Concepts Together
ABOUT THE SPEAKER
JONATHAN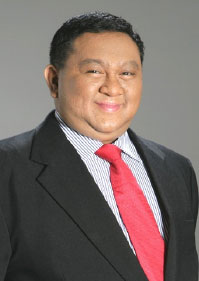 L. RAVELAS, FVP and Chief Market Strategist of Banco de Oro joined the bank in 2002 to provide analysis on financial markets and macroeconomic developments in local and foreign economies. Prior to that, he held the same position in the treasury department of Equitable PCI Bank. From 1992 to 1998, he worked as strategist, analyst, equities dealer and portfolio manager in both money management and institutional equity brokerage settings. He has delivered many lectures in the field of forecasting, using different methods and applications to financial markets, here and abroad. Having worked in the financial markets for more than a decade he has been a leading advocate in creating and running a wide range of educational programs for private and institutional investors – ranging from the basics of financial markets to advanced trading strategies. His economic commentaries regularly appear in Business World, the Business Mirror, the Philippine Daily Inquirer and the Asian Wall Street Journal. He is also a well-known commentator appearing regularly on ANC, Bloomberg and BBC. Mr. Ravelas has a Bachelor's degree in Management of Financial Institutions from the De La Salle University in Manila.
NASBI MEMBER
NON-NASBI MEMBER
Fees
P3,500 per person
P4,000 per person
Date

March 8, 201 3 (Friday)

Time/Duration

9:00 Am to 5:00 PM

Venue

Training Room, ACI-MART Office, Penthouse

PDCP Bank Centre, V.A. Rufino cor L.P. Leviste Sts.

Salcedo Village, Makati City

Participants

Ideal for broker salesmen (Acceptance will be given on a first come, first served basis) NASBI members will be given priority

Maximum Participants

30 participants

Reservation

All reservations will be considered confirmed if not cancelled three (3) working days before the scheduled training date.

Payments

Check payments should be made to the: NATIONAL ASSOCIATION OF SECURITIES BROKER SALESMEN, INC.
For inquires and/or confirmation of registration please contact the NASBI Program Coordinator and/or fill-up the registration form and submit via fax or email on or before March 1, 2013 (Friday) to:
PROGRAM COORDINATOR
Mr. Paul A. Evora
Chairman, NASBI Education Committee
Tel No. (632) 858-3020;
Fax No. (632) 840-7329 ext. 2246
Email Add: evora.paul@bdo.com.ph